Algae Derived Bio Fuel Arrives at Retail Pumps
November 14, 2012
Beginning November 13th 2012,
Propel Fuels, a California Bay Area retailer of renewable fuels and Solazyme, Inc. the renewable oil and bioproducts company, are selling algae-derived B-20 diesel fuel to retail pumps for the first time in history.
Solazyme Propel SolaDiesel B20 Retail Pump. Click image for the largest view.
The product is called Soladiesel®BD that has 20%
Solazyme
algae sourced biodiesel combined with regular diesel fuel.
The product is available to drivers at some of Propel's Bay Area retail renewable fuel locations over a month-long pilot program.
The offering provides the industry's first opportunity to test consumer response to an advanced renewable fuel. The fuel will be sold at the same price as conventional diesel fuels and will be available exclusively at Propel's Clean Fuel Points locations in Redwood City, San Jose (N. First St.), Berkeley, and Oakland.
Solazyme's high quality algae-based SoladieselBD meets or exceeds ASTM quality specifications and has shown performance enhancements including cold temperature operating performance. The fuel is compatible with existing diesel engines and the fuel's performance is guaranteed by Propel.
An enthused Matt Horton, CEO of Propel Fuels said, "Propel is committed to providing our customers with access to the highest quality, most sustainable, domestically produced fuels, so we're proud to introduce the next generation of fuels to the retail market. Propel's growing station network provides the critical link between these future fuels and today's consumer fuel tanks, giving our customers a chance to make history."
Solazyme's widely admired and leading technology converts plant sugars into oils by feeding the sugars to microalgae in standard industrial fermentation equipment. The algae consume the sugars and convert them into oils rapidly and efficiently taking only a few days. Testing undertaken by the National Renewable Energy Laboratory (NREL) shows that, in a 20% blend, SoladieselBD significantly outperforms ultra-low sulfur diesel in total hydrocarbons (THC), carbon monoxide (CO) and particulate matter tailpipe emissions. The results show an approximate 30% reduction in particulates, a 20% reduction in CO and an approximate 10% reduction in THC.
Bob Ames, VP of Fuels, Solazyme adds, "Solazyme's revolutionary algae-based technology platform has supplied our development partners and customers with advanced biofuels that meet or exceed some of the world's most stringent fuels specifications and requirements. We've successfully demonstrated our land-based fuels in fleet vehicles and corporate busses, and are excited about this pilot program with Propel because it enables us to make these fuels available to the public."
Solazyme, Inc. is a renewable oil and bioproducts company that transforms a range of low-cost plant-based sugars into high-value oils. Headquartered in South San Francisco, Solazyme's renewable products can replace or enhance oils derived from the world's three existing sources – petroleum, plants and animal fats.
Reports have it that Solazyme's lead microalgae strains produce oil for the fuels and chemicals markets achieve key performance metrics that the firm believes would allow them to manufacture oils today at a cost below $1,000 per metric ton ($3.44 per gallon or $0.91 per liter) if produced in a built-for-purpose commercial plant.
The news is a serious milestone. Solazyme has already entered into non-binding offtake agreements with Dow Chemical purchasing up to 20 million gallons (76 million liters) of Solazyme's oils in 2013, rising to up to 60 million gallons (227 million liters) by 2015. Qantas will purchase a minimum of 200 to 400 million liters of Solazyme's jet fuel per year.
Solazyme has produced over 283,000 liters of military-spec diesel (HRF-76) for U.S. Navy contract. The U.S. Navy has indicated its intent to exercise its phase 2 option for another 267,000 liters. The fuels successfully tested in a Riverine Command Boat and MS 60S Seahawk helicopter demonstration.
Solazyme has technology proven at scale. Next up is proving the technology in the market. This time it's a lot more about marketing skill than technology.
That suggests that the Propel deal is a good idea. Propel builds and operates a network of green-built filling stations providing convenient access to American, low carbon fuels and clean mobility solutions. The company offers consumers and fleets new fuel choices that make progress toward reducing carbon emissions, creating jobs, and lowering America's dependence on foreign oil.
Propel has developed CleanDrive®, the nation's first integrated carbon emission reduction tracking platform, and is the only fueling company in the country to enable drivers to offset their emissions at the pump through their CarbonOffset program.
News reports have Propel looking quite successful.
If you're in the area with a diesel you might want to check the price and hopefully, fill up. The technology and investment are still quit young and need any little boost possible.
______________________________________________________________________________


Montanans join group calling for keeping renewable fuel standards

Group asks people to submit comments to EPA

Tim Leeds
Published: Friday, September 28th, 2012


A topic of high interest in north-central Montana — the production of fuel from renewable sources — is getting national attention, with the drought scorching the nation being a top driver.
Montana groups involved in biofuels have joined a national coalition, Fuels America, in calling on the Environmental Protection Agency to decline a request from a group of governors to waive the Renewable Fuel Standard, or RFS, which sets requirements for the amount of renewable fuel that must be blended with petroleum fuels and available for consumers.
The group requesting the waiver cites increasing prices, particularly for corn, that will impact livestock producers and asked that the requirement for corn-based ethanol be waived.
But supporters of biofuels say the requirements should be kept.
"We've seen Montana-grown and Montana-produced biofuels power commercial and military jets, trains and commuter buses, " Chris Christiaens, legislative and project specialist for the Montana Farmers Union, said in a press release. "We are just at the beginning stages of exploring Montana's potential in this area, which is enormous. But, without the RFS, we are in danger of losing momentum. The biofuels industry feeds our state economy, helps rural Montana, and provides the U. S. with energy security. "
The EPA has extended its comment period on the issue to Oct. 11.
The 25x'25 Alliance, a group pushing for 25 percent of America's energy to be produced using renewable resources by 2025, has called on its members and partners to submit comments on the proposed waiver.
"There is no current evidence that compliance with the RFS is causing severe economic harm, nor is there evidence that cutting back the RFS will improve the economic conditions of the states or the industries for which these waiver requests were filed, " 25x'25 Project Coordinator Ernie Shea said in a press release. "In fact, 25x'25 believes that cutting back the RFS would make very little difference in corn prices. However, setting aside ethanol requirements would likely keep gasoline prices higher and reduce the supply of the cost-competitive, high protein feed co-product of the ethanol production process, dried distillers grains with solubles, used by many livestock producers. "
The push to increase use of renewable fuel has enormous implications in north-central Montana.
Montana State University-Northern research on improving the process of converting camelina — well-suited for use on marginal land or as a rotation crop in the region — to biodiesel has caught national attention. So has a discovery of a process — for which Northern has applied for a patent — to refine camelina to jet fuel.
Earl Fisher Biofuels, a Chester-based biodiesel plant — called by Gov. Brian Schweitzer a prototype for converting locally grown oilseed to biofuel for local use, and this year given the governor's innovative business award — produces biodiesel used in the local economy, including in a blend sold at the Cenex Cardtrol station in downtown Havre.
Earl Fisher supplied biodiesel for tests at the Havre BNSF station, using a blend to operate a switching engine at the station. BNSF has not yet released the results as yet.
Earl Fisher also was selected as a 2011 Harvesting Clean Energy Innovator by the Harvesting Clean Energy program of Climate Solutions.
The local bus system, North Central Montana Transit, uses locally produced biodiesel in its buses.
The group calling for keeping the standard cited the continued work at Northern, as well as the U. S. military investing $16 in Montana for development and production of camelina-based fuel and the residents of the state putting 17.5 million gallons of ethanol in their vehicles.
The release said that this year the U. S. Department of Commerce announced a $647,748 grant to Northern to expand its biodiesel program and the North Central Montana Renewable Industry Initiative. The project is intended to commercialize new technology, create new high-skill, living-wage jobs and is expected to generate $90 million in private investment.
In the press release, retired U. S. Army Lt. Colonel and Montana rancher Richard Liebert also called for keeping the Renewable Fuel Standard.
"Our country, and our troops, benefit from energy independence. By reducing our dependence on foreign oil, we help keep our nation strong and safe, " Liebert said. "Biofuels would allow the Department of Defense to run on homeland fuel and provide the public with cleaner energy, while also helping to revitalize our struggling ranches and farms. "
People can submit comments on the waiver, identified by Docket ID No. EPA-HQ-OAR-2012-0632, at
http://www.regulations.gov
, following the on-line instructions for submitting comments; or via email at a-and-r-docket@epa.gov; fax: (202) 566-1741; or mail: Air and Radiation Docket, Docket ID No. EPA-HQ-OAR-2012-0632, Environmental Protection Agency, Mailcode: 6102T, 1200 Pennsylvania Avenue, NW., Washington, DC 20460. People are asked to include a total of two copies.
Online: Fuels America:
http://www.fuelsamerica.org
;
http://www.25x25.org
;
http://www.earlfisherbiofuels.com
; Montana State University-Northern Bio-Energy Center:
http://bioenergytestingcenter.com/
______________________________________________________________________________
Fueling the Fleet, Navy Looks to the Seas

9/24/2012


Refueling U.S. Navy vessels, at sea and underway, is a costly endeavor in terms of logistics, time, fiscal constraints and threats to national security and sailors at sea.
In Fiscal Year 2011, the U.S. Navy Military Sea Lift Command, the primary supplier of fuel and oil to the U.S. Navy fleet, delivered nearly 600 million gallons of fuel to Navy vessels underway, operating 15 fleet replenishment oilers around the globe.

From Seawater to CO
2
Scientists at the U.S. Naval Research Laboratory are developing a process to extract carbon dioxide (CO
2
) and produce hydrogen gas (H
2
) from seawater, subsequently catalytically converting the CO
2
and H
2
into jet fuel by a gas-to-liquids process.
"The potential payoff is the ability to produce JP-5 fuel stock at sea reducing the logistics tail on fuel delivery with no environmental burden and increasing the Navy's energy security and independence," says research chemist, Dr. Heather Willauer.
NRL has successfully developed and demonstrated technologies for the recovery of CO
2
and the production of H
2
from seawater using an electrochemical acidification cell, and the conversion of CO
2
and H
2
to hydrocarbons (organic compounds consisting of hydrogen and carbon) that can be used to produce jet fuel.
"The reduction and hydrogenation of CO
2
to form hydrocarbons is accomplished using a catalyst that is similar to those used for Fischer-Tropsch reduction and hydrogenation of carbon monoxide," adds Willauer. "By modifying the surface composition of iron catalysts in fixed-bed reactors, NRL has successfully improved CO
2
conversion efficiencies up to 60 percent."


A Renewable Resource

CO
2
is an abundant carbon (C) resource in the air and in seawater, with the concentration in the ocean about 140 times greater than that in air. Two to three percent of the CO
2
in seawater is dissolved CO
2
gas in the form of carbonic acid, one percent is carbonate, and the remaining 96 to 97 percent is bound in bicarbonate. If processes are developed to take advantage of the higher weight per volume concentration of CO
2
in seawater, coupled with more efficient catalysts for the heterogeneous catalysis of CO
2
and H
2
, a viable sea-based synthetic fuel process can be envisioned. "With such a process, the Navy could avoid the uncertainties inherent in procuring fuel from foreign sources and/or maintaining long supply lines," Willauer said.
NRL has made significant advances developing carbon capture technologies in the laboratory. In the summer of 2009 a standard commercially available chlorine dioxide cell and an electro-deionization cell were modified to function as electrochemical acidification cells. Using the novel cells both dissolved and bound CO
2
were recovered from seawater by re-equilibrating carbonate and bicarbonate to CO
2
gas at a seawater pH below 6. In addition to CO
2
, the cells produced H
2
at the cathode as a by-product.
These completed studies assessed the effects of the acidification cell configuration, seawater composition, flow rate, and current on seawater pH levels. The data were used to determine the feasibility of this approach for efficiently extracting large quantities of CO
2
from seawater. From these feasibility studies NRL successfully scaled-up and integrated the carbon capture technology into an independent skid to process larger volumes of seawater and evaluate the overall system design and efficiencies.
The major component of the carbon capture skid is a three-chambered electrochemical acidification cell. This cell uses small quantities of electricity to exchange hydrogen ions produced at the anode with sodium ions in the seawater stream. As a result, the seawater is acidified. At the cathode, water is reduced to H
2
gas and sodium hydroxide (NaOH) is formed. This basic solution may be re-combined with the acidified seawater to return the seawater to its original pH with no additional chemicals. Current and continuing research using this carbon capture skid demonstrates the continuous efficient production of H
2
and the recovery of up to 92 percent of CO
2
from seawater.
Located at NRL's Center for Corrosion Science & Engineering facility, Key West, Fla., (NRLKW) the carbon capture skid has been tested using seawater from the Gulf of Mexico to simulate conditions that will be encountered in an actual open ocean process for capturing CO
2
from seawater and producing H
2
gas. Currently NRL is working on process optimization and scale-up. Once these are completed, initial studies predict that jet fuel from seawater would cost in the range of $3 to $6 per gallon to produce.

How it Works: CO
2
+ H
2
= Jet Fuel

NRL has developed a two-step process in the laboratory to convert the CO
2
and H
2
gathered from the seawater to liquid hydrocarbons. In the first step, an iron-based catalyst has been developed that can achieve CO
2
conversion levels up to 60 percent and decrease unwanted methane production from 97 percent to 25 percent in favor of longer-chain unsaturated hydrocarbons (olefins).
In the second step these olefins can be oligomerized (a chemical process that converts monomers, molecules of low molecular weight, to a compound of higher molecular weight by a finite degree of polymerization) into a liquid containing hydrocarbon molecules in the carbon C
9
-C
16
range, suitable for conversion to jet fuel by a nickel-supported catalyst reaction.
Read the full report at:
http://www.nrl.navy.mil/media/news-releases/2012/fueling-the-fleet-navy-looks-to-the-seas
______________________________________________________________________________

New Tool Doubles Production of Butanol and Cuts Costs


A new discovery at the University of Illinois should make the alternative fuel butanol more attractive to the biofuel industry. Scientist Hao Feng has found a way to significantly reduce the cost of the energy involved and a way around a bottleneck that has frustrated producers in the past.
Feng explains, "The first challenge in butanol production is that at a certain concentration (level of butanol) the fuel being created becomes toxic to the organism used to make it (Clostridium pasteurianum and other strains), and that toxicity limits the amount of fuel that can be made in one batch. The second issue is the high energy cost of removing butanol from the fermentation broth at the high concentrations used by the industry. We have solved both problems."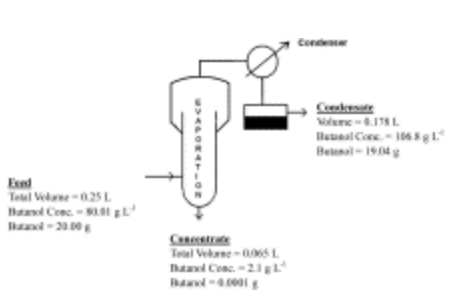 U of Illinois Butanol Separation Process Diagram. Click image for more info.
To achieve the study result, Feng's team successfully tested the use of a non-ionic surfactant, or co-polymer, to create small structures that capture and hold the butanol molecules.
Feng adds, "This keeps the amount of butanol in the fermentation broth low so it doesn't kill the organism and we can continue to produce it."
The new process is called extractive fermentation and increases the amount of butanol produced during fermentation by 100% and peaks exceeding 200% have been recorded.
The team's paper, Extractive Fermentation with Non-Ionic Surfactants to Enhance Butanol Production" appeared in the May 2012 issue of Biomass & Bioenergy.
Using a range of non-ionic surfactants tests were ran to enhance the acetone–butanol (AB) production, and to extract and separate butanol from the fermentation broth. The best-optimized surfactant (L62) resulted in a butanol yield of 225% higher than the control. A considerable enrichment of butanol (6 times) was achieved in the surfactant-rich phase over the control. In addition, the downstream process volume or total liquids during extraction, was reduced by 4–6 times.
Butanol was separated from the surfactant-rich phase (obtained from model system) by evaporation between 120° and 130° C. The butanol was enriched in the condensate reaching a concentration of 106.8 g l−1, under which butanol automatically separated into two phases. The L62 was recovered by evaporation and reused for 3 recycles without affecting the partition coefficient, volume reduction, and butanol recovery in the surfactant-rich phase. The results demonstrated that the L62 not only significantly enhanced the butanol production but also functioned as a good extractant for separating butanol from the fermentation broth.
But that's only the beginning. Feng's group then makes use of one of the polymer's properties – its sensitivity to temperature. When the fermentation process is finished, the scientists heat the solution until a cloud appears and two layers form.
Feng continues the explanation, "We use a process called cloud point separation. Two phases form, with the second facing the polymer-rich phase. When we remove the second phase, we can recover the butanol, achieving a three- to fourfold reduction in energy use there because we don't have to remove as much water as in traditional fermentation."
A bonus that the co-polymers have are they can be recycled and can be reused at least three times after butanol is extracted and recycling has little effect on phase separation behavior and butanol enrichment ability. After the first recovery, the volume of butanol recovered is slightly lower but is still at a high concentration.
According to Feng, alternative fuel manufacturers may want to take another look at butanol because it has a number of attractive qualities. Butanol has a 30 percent higher energy content than ethanol, lower vapor pressure, and is less volatile, less flammable, and mixes well with gasoline, he noted.
The study was funded by the Energy Biosciences Institute. The team members on Feng's team are Pradip B. Dhamole, Zhilong Wang, Yuanqin Liu and Bin Wang.
It looks like this could be an excellent addition to the ethanol effort. While not mentioned or discussed, the vegetable material source to produce fuel isn't shown as a factor. That implies indirectly that most all of the current feedstocks would work.
Butanol is a near drop in gasoline replacement. So far the production processes have simply been stopped by the concentration issue. Killing one's fermentation bugs with the end product isn't a path to success. If the Feng team can scale this work it shouldn't be difficult to sign up some facilities and get the fuel into the market.
______________________________________________________________________________
Oil In a Fight With Itself
March 5, 2012

The renewable fuel producers are about to up the pressure on the world oil industry, and for consumers it's not a moment too soon.
First off,
South Dakota's government has approved a subsidy of 20 cents per gallon for ethanol plants to transition over to butanol.
The cap for the subsidy is $4 million per facility equaling 20 million gallons. The state's own
Redfield Energy
is converting its 50 million gallon ethanol facility over to a 40 million gallons of biobutanol, in partnership with Gevo. The math? It's 40/18 million bushels of corn or 2.22 gallons.
Butanol
is nearly the same in energy value as gasoline, so it's expected to be a drop in replacement.

As noted in the post on Feb 24, Big Oil has invested in CoolPlanet
and it's a good guess that more investing is coming. "Big Oil" as in the oil refiner
Valero
who already owns 8% of the ethanol production in the U.S. now, is a major backer in
Mascoma
.
Mascoma's foundation technology comes from consolidated bioprocessing, in which Mascoma's engineered microorganism both extracts the available sugars from biomass and ferments them, all in one step. No need for those additional enzymes to extract sugars from biomass, which are generally available at 50 cents a gallon today, and perhaps as little as 30 cents per gallon in the future. Cutting those costs out of production makes cellulose based alcohol a much more competitive fuel product.
It's all working well for corn, new butanol and ramping up of cellulose production. Another big ethanol producer,
POET
, has announced
a stunning deal with DSM
to start an ethanol joint venture. This follows news that POET's Project Liberty is to cost $250 million producing 25 million gallons annually. The math at Project Liberty is a massive improvement. Poet's first run at cellulose started back in 2008, had costs in the $6 a gallon range. Project Liberty figures to get to $1.85 – more than a 2/3rds reduction.
Valero is invested in Mascoma's estimated $232 million first commercial facility at Kinross, Michigan. This isn't to be a corn fed plant. Mascoma's's technology is working on hardwoods because hardwood can be gathered and shipped in with better economics than corn stover and operated at larger capacities.
The Kinross facility is designed to reach 40 million gallons, while POET has indicated that it believes that 25 million gallons is the sustainable capacity for add-on cellulosic ethanol capacity at corn ethanol plants. This is a major difference – drawn from those gathering and shipping costs.
Mascoma appears to be slightly ahead of POET, projecting a $1.77 unsubsidized operating cost per gallon, compared to the $1.85 estimated for POET.
It's still early for figuring what path cellulosic will grow to dominate. There's still the new guy,
CoolPlanet
with that big rich investor base.
CoolPlanet's technology is to make synthetic hydrocarbon fuels based on biomass from plant photosynthesis that absorbs carbon from the air. The announced focus is heading towards Miscanthus grass. The technology is said to make exact replacements for gasoline that will operate in the current gasoline fueled fleet and can make even more advanced "superfuels" for even higher gas mileage and better performance in future vehicles.
Miscanthus isn't the only potential feedstock. So far as one can tell, CoolPlanet is a kind of pyrolysis, some kind of revolutionary thermal/mechanical processor that directly inputs raw biomass such as woodchips, crop residue, algae, etc. and produces multiple distinct gas streams for catalytic upgrading to conventional fuel components.
Over the course of three steps three fuel precursors are produced. Then a range of simple one-step catalytic conversion processes produce useful products such as eBTX (high octane gasoline), synthetic diesel and proprietary ultra-high crop yield super fuels.
The waste is the highly desirable biochar, in the form of activated carbon that can be used as a soil enhancer similar to "
terra preta
".
Even more encouraging is the CoolPlanet model is design to be small and close to the feedstock source and even mobile. As seen in the POET Mascoma competition, the gathering and shipping can limit growth.
There's a lot of "oil" interest in CoolPlanet already.
The independent oil industry understands full well the implications of higher cost fossil petroleum sources. As the Chevron folks say quite pointedly, "we'll need and use every molecule".
It's also a good time to get in. With Obama and the Federal Reserve busily pouring dollars into the economy creating a pyrolysis of the dollar so to speak, having cash isn't a real good idea when its clear that some early renewable fuel technologies are getting competitive and can now become real working assets. Those dollars of today will be earning inflated dollars later – one reason rich folks don't scream as loud as the middle class and poor.
Should CoolPlanet get to scale, the estimated costs the POET and Mascoma processes could be in for real competition. In biofuels pennies matter, two cents saved over 50 million gallons comes to a million dollars.
But we can't call a dominator yet, POET has already shown it can slash production costs; Mascoma will surely work to the same ends.
Renewables based in ethanol and butanol are about to arrive at scale. It took the U.S. corn farmers decades to get to nearly a million barrels a day, it won't take the cellulosic guys anywhere near that long and by then a lot of the corn will go to butanol. One million barrels a day done, ten million barrels a day to go. It's looking more probable than possible now.
______________________________________________________________________________
Camelina crop insurance now available


NOVEMBER 30, 2011

Senator Tester: Camelina crop insurance now available in 41 Montana counties USDA announces insurance pilot program as a result of Tester's law

(U.S. SENATE) - Senator Jon Tester released the following statement after the U.S. Department of Agriculture today announced a pilot program to provide crop insurance for camelina. The initiative is a direct result of Tester's Biofuel Crop Insurance Pilot Program, which he included in the most recent Farm Bill.

"This initiative will provide jobs and opportunities for Montana farmers-while bringing our entire nation closer to energy independence
through home-grown, renewable resources. I'm pleased the USDA is finally putting some muscle behind my camelina law and providing Montana farmers the chance to expand this promising resource and create jobs in the process."

Oil from crushed camelina seeds can be easily converted into biofuel. The plant grows easily in Montana, and can be rotated with more traditional crops like wheat and barley.

The new camelina insurance pilot program will be available through the USDA's Risk Management Agency to farmers in the following counties: Big Horn, Blaine, Broadwater, Carbon, Carter, Cascade, Chouteau, Custer, Daniels, Dawson, Fallon, Fergus, Garfield, Glacier, Golden Valley, Hill, Judith Basin, Lewis and Clark, Liberty, McCone, Meagher, Musselshell, Park, Petroleum, Phillips, Pondera, Powder River, Prairie, Richland, Roosevelt, Rosebud, Sheridan, Stillwater, Sweet Grass, Teton, Toole, Treasure, Valley, Wheatland, Wibaux and Yellowstone.

Tester, the Senate's only active farmer, has pushed to offer more certainty to potential camelina growers since 2007.

Camelina production already creates jobs in Montana. In 2010, the U.S. Navy test flew an F/A 18 Super Hornet

<http://tester.senate.gov/Newsroom/pr_042210_camelina.cfm>

fueled by Montana-grown camelina biofuel. Bozeman-based Sustainable Oils worked with the Navy to produce 40,000 gallons of camelina biofuel for the test.

More information on Tester's push to expand camelina production is online HERE

<http://tester.senate.gov/Newsroom/pr_050307_camelina.cfm>.

Contact: Aaron Murphy (406) 252-0550 or Andrea Helling (202) 228-0371
______________________________________________________________________________
Much More Energy from Switchgrass
November 28, 2011


Researchers with the U.S. Department of Energy (DOE)'s Joint BioEnergy Institute (JBEI) a DOE Bioenergy Research Center led by the Lawrence Berkeley National Laboratory (Berkeley Lab) have made an important step in switchgrass production.

The team of JBEI researchers, working with researchers at the U.S. Department of Agriculture's Agricultural Research Service (ARS), has demonstrated that introducing a maize (corn) gene into switchgrass, a highly touted potential feedstock for advanced biofuels, more than doubles (250 percent) the amount of starch in the plant's cell walls and makes it much easier to extract polysaccharides and convert them into fermentable sugars.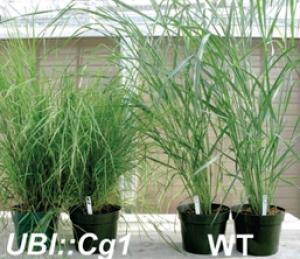 Switchgrass With Corn Gene. Click image for more info.

The gene, a variant of the maize gene known as Corngrass1 (Cg1), holds the switchgrass in the juvenile phase of development, preventing it from advancing to the adult phase.
Blake Simmons, a chemical engineer who heads JBEI's Deconstruction Division and one of the principal investigators for the research said, "We show that Cg1 switchgrass biomass is easier for enzymes to break down and also releases more glucose during saccharification. Cg1 switchgrass contains decreased amounts of lignin and increased levels of glucose and other sugars compared with wild switchgrass, which enhances the plant's potential as a feedstock for advanced biofuels."

The research paper results have been published in the Proceedings of the National Academy of Sciences, entitled "Overexpression of the Maize Corngrass1 MicroRNA Prevents Flowering, Improves digestibility, and Increases Starch Content of Switchgrass."

Lignocellulosic biomass is the most abundant organic materials on earth. Studies have consistently shown that biofuels derived from lignocellulosic biomass could be produced in the United States in a sustainable fashion and could replace today's gasoline, diesel and jet fuels on a gallon-for-gallon basis. Nature, however, does not make it easy. Unlike the starch sugars in grains, the complex polysaccharides in the cellulose of plant cell walls are locked within a tough woody material called lignin.
Among potential crop feedstocks for advanced biofuels, switchgrass offers a number of advantages. As a perennial grass that is both salt- and drought-tolerant, switchgrass can flourish on marginal cropland, does not compete with food crops, and requires little fertilization. A key to its use in biofuels is making it more digestible to the fermentation microbes.
The magic is in the choice of the gene offering the expression. George Chuck, lead author of the paper and a plant molecular geneticist who holds joint appointments at the Plant Gene Expression Center with ARS and the University of California (UC) Berkeley explains, "The original Cg1 was isolated in maize about 80 years ago. We cloned the gene in 2007 and engineered it into other plants, including switchgrass, so that these plants would replicate what was found in maize. The natural function of Cg1 is to hold plants in the juvenile phase of development for a short time to induce more branching. Our Cg1 variant is special because it is always turned on, which means the plants always think they are juveniles."
Chuck and his colleague Sarah Hake, another co-author of the paper and director of the Plant Gene Expression Center, proposed that since juvenile biomass is less lignified, it should be easier to break down into fermentable sugars. Also, since juvenile plants don't make seed, more starch should be available for making biofuels. To test this hypothesis, they collaborated with Simmons and his colleagues at JBEI to determine the impact of introducing the Cg1 gene into switchgrass.
The result astonishes – in addition to reducing the lignin and boosting the amount of starch in the switchgrass, the introduction and overexpression of the maize Cg1 gene also prevented the switchgrass from flowering even after more than two years of growth, an unexpected but advantageous result. "The lack of flowering limits the risk of the genetically modified switchgrass from spreading genes into the wild population," said Chuck.
Its not a perfect answer yet. For example, the Cg1 switchgrass biomass still required a pre-treatment to efficiently liberate fermentable sugars. But then all the other cellulose based systems do as well. Then the questions about propagation and cultivation need addressed.
Simmons looks at the results and the future about where it should lead saying, "The alteration of the switchgrass does allow us to use less energy in our pre-treatments to achieve high sugar yields as compared to the energy required to convert the wild type plants. The results of this research set the stage for an expanded suite of pretreatment and saccharification approaches at JBEI and elsewhere that will be used to generate hydrolysates for characterization and fuel production."
Another point, which may prove more worthwhile over time, pertains to the mechanism by which Cg1 is able to keep switchgrass and other plants in the juvenile phase. "We know that Cg1 is controlling an entire family of transcription factor genes," Chuck said, "but we have no idea how these genes function in the context of plant aging. It will probably take a few years to figure this out."
The team's results, about a week earlier than
a study out of the UK, illustrate how far and fast biomass production could go. The UK folks seem to think that about a fifth of global energy demand could be met by biomass without harming food production.
The article about the study notes there has been a debate raging. One wonders why there is any debate at all . . .
250% is quite a disrupter and challenges the cellulosic industry to get the processing costs down.
Now the question comes if the gene will transfer into miscanthus as well. If it does and one or both field trial as well as the lab trials the biomass outlook will be vastly changed for the better.
______________________________________________________________________________
Military plans increased use of biofuels; camelina potential good for Montana

BOZEMAN — The U.S. military wants 25 percent of its liquid fuel needs to come from biofuels by 2025, and Montana farmers could be in an ideal position to cash in on that investment.

According to a new report from the Pew Project on National Security, Energy and Climate, the U.S. Department of Defense is ramping up clean energy innovations in an effort to reduce the military's reliance on petroleum, enhance energy security and save money.

Currently, liquid petroleum fuels account for 75 percent of DOD's $15 billion annual energy bill.

The report highlights DOD's clean energy investments, which increased 300 percent between 2006 and 2009 and from $400 million to $1.2 billion. Those investments are expected to increase to more than $10 billion annually by 2030, the report states.

A major part of that clean energy investment involves increasing the military's use of plant-based biofuels, which could mean big opportunities for Montana farmers.

According to the report, Seattle-based Sustainable Oil's Bozeman-based research facility is on the cutting edge of advanced biofuels research.

Camelina, also known as "gold of pleasure" or "false flax," is an oilseed plant that is ideally suited to Montana's growing conditions. The plant needs little water or nitrogen to flourish and it grows easily on land not suitable for other crops. It also has a very high oil content. Up to 40 percent of the mass of the plant's small seeds is oil.

Fernando Guillen is the senior plant breeder at Sustainable Oil's Bozeman facility. Guillen and his team of researchers are focused on developing camelina breeds that are well-adapted to Montana's climate and soils.

Guillen said since 2007 more than 60,000 acres of Montana farmland — mostly in northcentral Montana — was devoted to growing Sustainable Oil's experimental camelina breeds. Those farms produced more than 750,000 bushels of seed during that time, which translated to between 50 and 80 gallons of oil per acre of camelina planted.

So far the company has provided 300,000 gallons of jet fuel to the military for testing purposes.

"There are four major aspects that make camelina a unique feedstock crop," Guillen said. "It has proven to be a low input crop; it has a high adaptability; its small seeds contain a relative high amount of oil; and it is considered a non-food crop."

That last point is important because that means camelina won't compete with plants that make up the nation's food supply.

Guillen said camelina makes for an ideal rotational crop. He said most of the test plots were in portions of fields that would otherwise be left fallow.

The defense department is now taking major steps toward using advanced biofuels to power its massive fleet of warplanes, vehicles and tanks, and many are hoping that investment will lead to a way to more widespread commercial use of biofuels in the United States.

"The Department of Defense fostered the Internet, GPS, computer software and other economically important innovations. Today, our uniformed men and women and their civilian counterparts are committed to transforming the way the department uses energy through efficiency and technology development," former U.S. Sen. John Warner, R-Virginia, said in a statement.

Warner is a senior policy adviser to the Pew Project on National Security, energy and climate.

According to the Pew report, the Air Force intends to use biofuels for 50 percent of its domestic aviations needs by 2016. By 2020, the Navy plans to sail the "Great Green Fleet" — and along with the Marines — plans to use alternative energy sources to meet 50 percent of its energy requirements.

Guillen said the military's investment in biofuels could jump-start camelina production in Montana and the United States and lay the groundwork for commercialization of advanced biofuels for use in other areas.

"The military's commitment to use camelina for advanced biofuel production provides us with a good opportunity to enter into the energy industry and at the same time provides Montana farmers with a good opportunity to grow additional crops," Guillen said.

Guillen said the vast majority of the camelina the company currently produces for the U.S. military comes from Montana.

Charlie Cromwell, an Iraq War veteran, former U.S. Army captain and current member of the U.S. Army Reserves, said using a renewable, domestic fuel source makes sense for the U.S. military.

"Throughout my Army career it was surprising to learn how much our dependence on foreign oil dictated the military policy I dealt with on a day-to-day basis," Cromwell said. "My deployment, my
missions, my takes all were touched by our dependence on foreign oil. And as an officer leading men, feeling dependent on someone or something else to ultimately win a war is scary."

According to Matt Leow, Montana field representative for the Pew Charitable Trusts, fuel shipments account for 80 percent of the supply convoys in Iraq and Afghanistan.

Leow said the advantages to biofuels investments don't just lie with the military.

"With Sustainable Oils, we have a great example of how the department's focus on clean energy is creating opportunities in Montana," Leow said.

Sens. Max Baucus and Jon Tester are working on improving those opportunities from Capitol Hill.

Early this year the two senators re-introduced the American Security and Freedom Fuels Act.

The measure would give the DOD the authority to contract for fuel produced in the United States for up to 10 years. Currently the department can only contract with energy suppliers for up to five years. According to supporters of the measure, the longer-term contracts for American-made fuels are expected to boost demand for crop-based biofuels. Those long-term contracts also are expected to jump-start investments in new energy projects such as biofuels plants.

"Powering our military with homegrown Montana biofuel will boost our national security and our economic security by reducing our dependence on foreign oil and creating jobs right here in America," Baucus said. "Our bill gives the military the contracting authority it needs to meet its biofuels goal, and the closer we get to reaching that goal, the greater demand we see for Montana camelina farmers and Montana jobs converting that camelina into American fuel."
______________________________________________________________________________
A New Synthetic Diesel Fuel
September 29, 2011


From Lawrence Berkeley National Laboratory comes the announcement
that researchers with the U.S Department of Energy (DOE)'s Joint BioEnergy Institute (JBEI) have identified a potential new advanced biofuel that could replace today's standard fuel for diesel engines. It would be clean, green, renewable and produced in the U.S.
JBEI research team used synthetic biology tools to engineer strains of two microbes, a bacteria and yeast, to produce a precursor to bisabolane, a member of the terpene class of chemical compounds that are found in plants and used in fragrances and flavorings. Preliminary tests by the team showed that bisabolane's properties make it a promising biosynthetic alternative to No. 2 diesel fuel.
Researchers at JBEI are pursuing the fundamental science needed to make production of advanced biofuels cost-effective on a national scale. One of the avenues being explored is sesquiterpenes, terpene compounds that contain 15 carbon atoms (diesel fuel typically contains 10 to 24 carbon atoms).
Taek Soon Lee, who directs JBEI's metabolic engineering program and is a project scientist with Lawrence Berkeley National Laboratory (Berkeley Lab)'s Physical Biosciences Division said, "This is the first report of bisabolane as a biosynthetic alternative to D2 diesel, and the first microbial overproduction of bisabolene in Escherichia coli and Saccharomyces cerevisiae. This work is also a proof-of-principle for advanced biofuels research in that we've shown that we can design a biofuel target, evaluate this fuel target, and produce the fuel with microbes that we've engineered."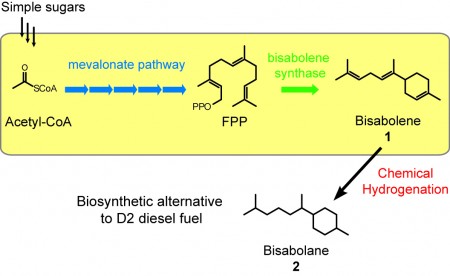 Path to Make Bisabolane as Diesel Altenative. Click image for more info.
The team's paper about
the research has been published in the journal Nature Communications entitled
"Identification and microbial production of a terpene-based advanced biofuel." Lee the corresponding author is joined with Pamela Peralta-Yahya, the lead author of the paper and Mario Ouellet, Rossana Chan, Aindrila Mukhopadhyay and Jay Keasling.
The hunt is very much on for alternatives to fossil based fuels. Advanced biofuels for liquid transportation fuels derived from the cellulosic biomass of perennial grasses and other non-food plants, as well as from agricultural waste are highly touted for their potential to replace gasoline, diesel and jet fuels.
Keasling, the CEO of JBEI and a leading authority on advanced biofuels points out, "We desperately need drop-in, renewable biofuels that can directly replace petroleum-derived fuels, particularly for vehicles that cannot be electrified. The technology we describe in our Nature Communications paper is a significant advance in that direction."
Lee explains the hunt in the sesquiterpenes zone, "Sesquiterpenes have a high-energy content and physicochemical properties similar to diesel and jet fuels. Although plants are the natural source of terpene compounds, engineered microbial platforms would be the most convenient and cost-effective approach for large-scale production of advanced biofuels."
In earlier work Lee and the team engineered a new metabolic reaction critical to biosynthesis (also called mevalonate pathway) in both E. coli and S. cerevisiae that resulted in these two microorganisms over-producing a chemical compound called farnesyl diphosphate (FPP), which can be treated with enzymes to synthesize a desired terpene. In the latest work, Lee's team used that mevalonate pathway to create bisabolene, which is a precursor to bisabolane.
When they began the work, the team did not know whether bisabolane could be used as a biofuel, but they targeted it on the basis of its chemical structure. Their first step was to perform fuel property tests on commercially available bisabolene, which comes as part of a mixture of compounds. Convinced they were onto something, the researchers then used biosynthesis to extract pure biosynthetic bisabolene from microbial cultures for hydrogenation into bisabolane. Subsequent fuel property tests on the bisabolane were again promising.
Lee tells the story, "Bisabolane has properties almost identical to D2 diesel but its branched and cyclic chemical structure gives it much lower freezing and cloud points, which should be advantageous for use as a fuel. Once we confirmed that bisabolane could be a good fuel, we designed a mevalonate pathway to produce the precursor, bisabolene. This was basically the same platform used to produce the anti-malarial drug artemisinin except that we introduced a terpene synthase and further engineered the pathway to improve the bisabolene yield both in E. coli and yeast."
"Once the complete fuel properties of hydrogenated biosynthetic bisabolene can be obtained, we'll be able to do an economic analysis that takes into consideration production variables such as the cost and type of feedstock, biomass depolymerization method, and the microbial yield of biofuel. We will also be able to estimate the impact of byproducts present in the hydrogenated commercial bisabolene, such as farnesane and aromatized bisabolene. Lee said.
Lee and his colleagues would like to replace the chemical processing step of bisabolene hydrogenation with an alkene reductase enzyme engineered into the E.coli and yeast so that all of the chemistry is performed within the microbes.
Looking down the road Lee said, "Enzymatic hydrogenation of this type of molecule is a very challenging project and will be a long term goal. Our near-term goal is to develop strains of E.coli and yeast for use in commercial-scale fermenters. Also, we will be investigating the use of sugars from biomass as a source of carbon for producing bisabolene."
The JBEI project looks good, even as a two step process. It looks like the raw material would be sugar – a product of intense interest as noted yesterday. If the cheap sugar matter is resolved with a bit of competition, projects like this have a good shot at getting to market.
______________________________________________________________________________
The First Cheap Sugar for Fuels and Chemicals
September 28, 2011

Renmatix
using only pressurized hot water turns wood, agricultural stover, grasses, other hemicellulose and cellulose rich crops and perhaps separated household and business waste into the
sugars
used to make vehicle fuels and other useful chemicals by treating the materials with compressed water heated to very high temperatures.
The idea is to achieve the sugar extraction processing at a cost and speed that sent several companies in recent years racing to find solutions. Even with big government inducements to commercialize a technology for making use of cellulosic biomass, or wood chips, or switchgrass and the other nonedible parts of crops – true commercial scale has eluded everyone.
Renmatix's demonstration facility in Kennesaw, Georgia, is scaled to run its process to convert three dry tons of woody biomass to sugars daily. It's working. 365 x 3 x 2000 gets to 1095 tons and 2,190,000 pounds annually.
Here's the really short course. The goal is to get to useable and valuable chemicals like transport fuels and industrial chemicals. The raw materials in the field are carbon, hydrogen and oxygen. In liquid form that would be the alcohol molecules like methanol, ethanol, butanol. In solid form or in a solution that life can use it would be sugars. Both sugars and alcohols are carbon based hydrogen rich and have a bit of oxygen along. For human use other than making sweetness with sucrose sugar, the best route to fuel and chemicals is to convert the sugars to alcohols and then on up to more complex molecules for other uses.
There is lots of sugar to be had from plants. Sugar from sugarcane or sugar beets can be simply squeezed out. The starch in corn is a bit more trouble to convert back into sugar. The sugar used by plants to make hemicellulose and cellulose is even more difficult to extract. Added all together there's a huge supply of carbon-hydrogen-oxygen molecules to be used over and over again.
But this all starts with sugar. Even the fossil fuels of oil, natural gas and coal have origins in the sugars of living things millions of years ago. Thus is seems apparent that mastering the extraction of sugars that can be processed by fuel and chemical makers very cheaply is an "oil well or gold mine' for the coming decades.

Renmatix Plantrose Process Block Diagram of Video. Click the Renmatix Technology link below to see the flash video of how the Plantrose process works. Click image for the largest view.
The really short course on the Renmatix technology is plant material is chopped and ground and mixed with water to a slurry texture. Next the slurry is fed into what Renmatix is calling a "fractionation reactor". In the fractionation reactor the hemicellulose breaks into a sugar of five carbon atoms with the attendant hydrogen and oxygen. Next the sugar is separated out leaving cellulose and lignin for forwarding to hydrolysis. At hydrolysis more water is added and more heat is applied for a cellulose reactor. In the cellulose reactor the heat is more intense and a six-carbon atom sugar is broken out. What's left is the lignin without sugar.

Renmatix calls this the
Plantrose™ Process – using
water in its supercritical state
to create cellulosic-based sugar. While this short course gets an understanding covered the Renmatix website linked in the previous sentence covers the process in more detail. Yet the fine details and the answers to most any question are not there as the information is truly intellectual property.
Of greatest interest is the relationship between the dry matter coming in and the sugar coming out. Like most websites the Renmatix site casually moves from dry input to refined output without establishing the ratio. Taking in so much dry biomass is one thing – producing "100,000 tons of sugar from a facility each year is quite another.
So zeroing on the scale and economic feasibility is still out of reach. Renmatix is the leader for now and the numbers and the people behind the technology are not to be dismissed. Renmatix will very likely get to commercial scale. Just where the demand for the products takes them is the major question. Will it be fuels or chemicals?
______________________________________________________________________________
The signup for this program has been extended to September 23, 2011
Release No. 0320.11

Isabel Benemelis (202) 720-7809

isabel.benemelis@wdc.usda.gov
Secretary Vilsack Announces Biomass Production Projects to Promote Renewable Energy Development and Create Jobs in Rural America

WASHINGTON, July 26, 2011 – Agriculture Secretary Tom Vilsack announced today the creation of four additional Biomass Crop Assistance Program (BCAP) project areas in six states to expand the availability of non-food crops to be used in the manufacturing of liquid biofuels. The four project areas set aside acres in California, Kansas, Montana, Oklahoma, Oregon and Washington for the production of renewable energy crops. According to industry estimates, these projects will create more than 3,400 jobs in the biorefinery, agriculture and supporting sectors, and provide the feedstocks to produce more than 2 million gallons of biofuels annually when full production levels are achieved.

"The Obama Administration is committed to providing financial opportunities to rural communities, farmers and ranchers to produce biomass which will be converted to renewable fuels and increase America's energy independence," said Vilsack. "The selection of these project areas is another step in the effort to assist the nation's advanced biofuel industry produce energy in commercial quantities from sustainable rural resources. This effort will create jobs stimulate rural economies across the nation."

BCAP, created in the 2008 Farm Bill, helps farmers and forest landowners with start-up costs of planting non-food energy crops for conversion to heat, power, biobased products and advanced biofuels. BCAP is designed to ensure sufficient biomass is available to reduce America's reliance on foreign oil, improve domestic energy security, reduce pollution and spur rural economic development and job creation.

Two of the new BCAP project areas, targeted for California, Montana, Washington and Oregon, will grow camelina at a significant scale. Camelina, an oilseed, is a rotation crop for wheat that can be established on marginally productive land. Biofuel from camelina is an ideal jet fuel substitute, and the announcement of these projects coincides with the first anniversary of a joint announcement by USDA, the Boeing Corporation and the Air Transportation Association on an initiative to bring sustainable and renewable aviation fuels to the marketplace. The project has a target of 51,000 acres. The sponsors are Beaver Biodiesel, LLCand AltAir Fuels LLC. The project areas are near biomass conversion facilities in Bakersfield, Calif., Tacoma, Wash., and Albany, Ore.

Another BCAP project area, part of an effort sponsored by cellulosic biofuels company ZeaChem, will encourage growth of hybrid poplar trees in Oregon. The goal is to enroll up to 7,000 acres. This project is part of a series of measures that comprise USDA's Wood-to-Energy Initiative. It seeks to build a forest restoration economy by integrating energy feedstock within the larger forest products sector to sustain rural jobs and prosperity. The project area surrounds a biomass conversion facility in Boardman, Ore.

Additionally, a BCAP project area in Kansas and Oklahoma, sponsored by Abengoa Biofuels, has been designated to grow up to 20,000 acres of switchgrass. The project area surrounds the future facility's biomass conversion facility in Hugoton, Kan.

USDA has allocated approximately $45 million for contracts that range between less than five years up to 15 years in the four project areas for producers who volunteer to enroll in BCAP. Producers who enter into BCAP contracts are eligible for reimbursements of up to 75 percent of the establishment costs of the perennial energy crop, and up to five years of annual maintenance payments for herbaceous crops and up to 15 years for woody crops. According to industry estimates, more than 3,400 jobs in the biorefinery, agriculture and supporting sectors will be created due to these new BCAP project areas, with more than 2 million gallons annually of biofuels manufactured when full production levels are achieved.

Earlier this year, USDA announced five BCAP project areas where energy crops will be grown on up to 250,000 acres in 66 counties in Arkansas, Kansas, Missouri, Pennsylvania and Ohio. These crops, such as switchgrass and giant miscanthus, are the first-ever national investments in expanding U.S. biomass resources to meet domestic energy security.

The sign-up period for these four new project areas will begin on Aug. 8, 2011. The deadline to sign up for the project areas is Friday, Sept. 16, 2011. The Farm Service Agency, administering the program on behalf of the Commodity Credit Corporation with conservation planning assistance from the Natural Resources Conservation Service and other partners, will enter into contracts with landowners and operators in these project areas. Producers interested in participating in the project areas should visit their local FSA county office. Information about BCAP may be found at
www.fsa.usda.gov/bcap
.

USDA is an equal opportunity provider, employer and lender. To file a complaint of discrimination, write to USDA, Assistant Secretary for Civil Rights, Office of the Assistant Secretary for Civil Rights, 1400 Independence Avenue, S.W., Stop 9410, Washington, DC 20250-9410, or call toll-free at (866) 632-9992 (English) or (800) 877-8339 (TDD) or (866) 377-8642 (English Federal-relay) or (800) 845-6136 (Spanish Federal-relay).

______________________________________________________________________________
How Good Is That Biomass?
August 24, 2011

Observers, journalists and investors don't always know the finer details of the qualities of biomass destined for making fuel. The question of how much useable starch and sugar there is in batch is quite significant to the cost basis of raw materials.
Seed companies are already coming out with hybrids of plants that are much better at producing the most desired traits. But the starting problem is testing in time, lab and personnel expense.

Last week researchers at U.S. Department of Agriculture (USDA) announced development of an inexpensive way to grade the ethanol potential of perennial grasses
at the biorefinery's biomass unloading dock. The new method also can be used to find ways to grow grasses for the highest ethanol yields. Not all government expenditures are a waste.
A team of scientists at the USDA's chief intramural scientific research agency, Agricultural Research Service (ARS), includes Ken Vogel, Rob Mitchell, and Steve Masterson at Lincoln, Neb.; Hans Jung at St. Paul, Minn.; Bruce Dien at Peoria, Ill.; and Michael Casler at Madison, Wis. This research project supports the USDA priority of developing new sources of bioenergy.

ARS geneticist Ken Vogel helps develop a way to grade the ethanol potential of perennial grasses at a cost of only about $5 a sample. Click image for the largest view.
The research team developed the first use of near-
infrared
sensing (NIRS) to measure 20 components in switchgrass biomass that determine its potential value to biorefinery operators. These components include cell wall sugars, soluble sugars and lignin. With this information, 13 traits can be determined, including the efficiency of the conversion from sugars to ethanol. The test gets much closer to a value of a load of biomass than supposition and allows immediate valuation and processing. No multi hour, day or week wait is needed to assess a farmers produce. And much of the risk is eliminated and the farmer gets much closer to a true valuation for payment.
The new test is a catch up. The capability of NIRS is already at work for corn grain. The new technology goes much further with a more difficult product. It's the first use of NIRS to predict maximum and actual ethanol yields of grasses from a basic conversion process.
The new application of NIRS is in one way future ready. Predictions of actual ethanol yields have been based on hexoses, or six-carbon sugars, in the plant cell wall and as soluble sugars. Since additional ethanol could be produced from pentose or five-carbon sugars as conversion technology improves, the NIRS method can be used to estimate what the total potential yield of ethanol or other biofuels would be if all sugars in the plant were converted.
That makes the new test of notable importance.
The scientists tested switchgrass varieties and experimental lines adapted to the Midwest using the new NIRS analyses and found significant differences for actual and potential ethanol yield per ton and per acre. That's the surprise for observers, journalists and investors.
Now the price – the study shows it is feasible to use NIRS to estimate ethanol yields of switchgrass at about $5 a sample, instead of $300 to $2,000 per sample using conventional analytical methods.
Those prices may surprise, as some loads of biomass aren't worth the price of the lab fees to assess the value.
In a situation of a maximum road capable load of 30 tons, or 80,000 pounds gross with the truck and trailer, $5 and a few minutes to get a value is practical. It's even practical to sample a crop and test before the harvesting. The information will allow calculating how small a load makes economic sense, how far a load can travel, and many other calculations that are important to economic viability.
It's just a test, but it means so very much more. Testing has been a barrier to biomass to fuel production that has now been cut down.
The calibrations developed in this study – and improved future versions – can be used in all aspects of plant research, including basic genetics and harvest and storage research for a variety of perennial grasses beyond switchgrass. The NIRS equations are already being used for developing new cultivars in ARS breeding programs in Nebraska and Wisconsin.
The new test is major cut in biomass to fuel collection expense and makes much more development possible and practical industrial development at scale more predictable.
It's a good day at the USDA and for biomass to fuel enthusiasts.
______________________________________________________________________________
President Obama Announces Major Initiative to Spur Biofuels Industry and Enhance America's Energy Security
August 16, 2011
President Obama today announced that the U.S. Departments of Agriculture, Energy, and Navy will invest up to $510 million during the next three years in partnership with the private sector to produce advanced drop-in aviation and marine biofuels to power military and commercial transportation. The initiative responds to a directive from President
Obama issued in March as part of his Blueprint for A Secure Energy Future, the administration's framework for reducing dependence on foreign oil. The biofuels initiative is being steered by the White House Biofuels
Interagency Work Group and Rural Council, both of which are enabling greater cross-agency collaboration to strengthen rural America.
"Biofuels are an important part of reducing America's dependence on foreign oil and creating jobs here at home," said President Obama. "But supporting biofuels cannot be the role of government alone. That's why we're partnering with the private sector to speed development of next-generation biofuels that will help us continue to take steps towards energy independence and strengthen communities across our country."
______________________________________________________________________________
Biodiesel May Be Produced In A Continuous Process
July 12, 2011
Today biodiesel is made by the batch, a naturally less efficient way for processes to run. A continuous process would be less expensive to run, easier to manage and need less storage and product movement both in front and at the finished side. Continuous biodiesel production would get less expensive, more competitive and become more consumer friendly. Most of the technology would apply to jet fuel production as well. It's an important and worthwhile research effort.
More bio oil is coming, too. While many still bemoan corn-based ethanol, China has caught on and is importing corn dried distillers grain (what's left over after the corn starch is made into ethanol) from the U.S. for meat production. The ethanol industry in the U.S. has realized there is excess corn oil in the distillers grain and is moving rapidly to get the oil out and add it to the biofuel market. Cutting back on the oil in the distillers grain makes it a better feed for most meat animals.
Meanwhile around the world other crops are producing ever more bio oil destined for the biodiesel or bio jet fuel markets. When
France's Centre National de la Recherche Scientifique (CNRS) announced that its Centre de Recherches Paul Pascal (CRPP) developed a novel catalyst capable of continuous production of biodiesel, heads turned and serious news and blogs worldwide are taking note.

The new catalyst, of which patents are already filed,
has just been explored in a paper published in the journal Energy & Environmental Science.

To get to a petroleum product substitute that will function in an open market bio oil needs processed to biodiesel or bio jetfuel. The common bio oils such as oilseed rape, palm, sunflower, cotton and soybean oil become biofuels from a chemical reaction, catalyzed in either an acidic or preferably a basic medium, between the vegetable oil (90%) and an alcohol (10%). This reaction, known as transesterification, converts the mixture into a methyl ester (the main constituent of biodiesel) and glycerol. The glycerol then goes on its own market path.
The reaction has a step where the methyl ester conversion into the corresponding acid salt reduces methyl ester yield. To get across the step of controlling the salt formation certain efficient and selective enzyme based catalysts such as those belonging to the family of lipases (triglyceride hydrolases) are used. But these are expensive and don't stay together well when used in industrial processes.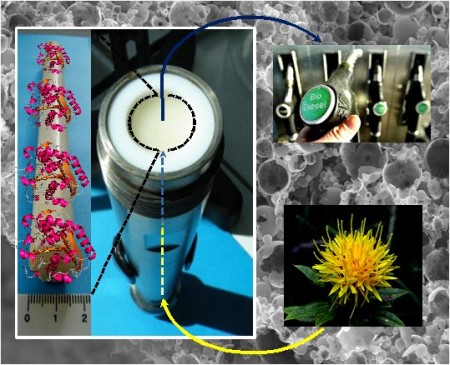 Biodiesel Continuous Flow Catalyst.. Click image for more information.
The CRPP team has come up with a much better solution – irreversibly confine the enzymes in porous matrices, thus allowing good accessibility and improve the product flow over them.
Initially the study demonstrated the possibility of efficient catalysis, by developing modified silica-based cellular matrices that make it possible to confine the enzymes in order to obtain exceptional yields for the hydrolysis, esterification and transesterification reactions.
The team's initial work also shows that unpurified enzymes could be used in the matrices. The fact that they were unpurified was a first step to significantly reducing the cost of biocatalysts. But, the method did not allow continuous biodiesel production. This obstacle has now been overcome.
The CRPP team has developed a new method that generates the cellular hybrid biocatalyst in place inside a chromotography column. The new approach makes it possible to carry out continuous, unidirectional flow synthesis over long periods, since catalytic activity and ethyl ester production are maintained at high, practically steady levels during a two-month period of time. These results are amongst the best ever obtained in this field.
Two months of continuous flow is very different from losing the enzyme dose in every batch or trying to recover the enzymes from each batch. That's what is turning heads and making news.
Meanwhile the team is continuing research into solvent-free conversion of triesters, aimed at minimizing waste production and curbing the use of solvents and metals in chemical transformation processes. This work, which is planned to meet current energy and environmental requirements, shows how intensely chemists are working in the public interest, and confirms the importance of integrative chemistry.
The French research looks extremely good and answers a major cost problem facing the substitution of bio oils into the middle distillate range of petroleum products. For diesel and jet fuel markets the processing cost has been an issue for years – while proving market value has successfully touched about every possible base. Driving down processing cost will also open the door to much more subsistent land farming where oil crops thrive better than sugar or starch crops, opening more cash income opportunities for subsistent farmers.
The French news won't make it to major news or big blogs, but you can bet biodiesel producers are thrilled and eager to see if the research will scale at low cost too. It's likely in time biodiesel consumers will be thrilled, too.
______________________________________________________________________________
Some see ethanol blocking newer fuels

Written by

PHILIP BRASHER
The Des Moines Register

10:00 PM, Apr. 8, 2011|


WASHINGTON — The ethanol industry's drive to increase its market is raising concerns that it could stifle development of next-generation biofuels that could be used more easily in conventional cars, service stations and pipelines.

Legislation sponsored by Sen. Tom Harkin, D-Iowa, would require automakers to equip new cars and trucks to run on both ethanol and gasoline and require service stations to install pumps that can dispense varying blends of the biofuel.

But Sen. Jeff Bingaman, D-N.M., chairman of the Senate Energy and Natural Resources Committee, worries that building an infrastructure for ethanol could discourage the development of synthetic versions of gasoline, diesel and other conventional fuels.

Those fuels could used be in conventional engines and distributed through existing pipelines and service stations, sidestepping the special infrastructure needs required by higher blends of ethanol. Such "drop-in" fuels are the "best fit for the country" in the medium to long term, Bingaman said at a hearing Thursday on Harkin's proposal.

"We should not go so far in locking our infrastructure into ethanol that we prevent different, and perhaps even better, renewable fuels from coming to market in the future," Bingaman said.

The committee's top Republican, Lisa Murkowski of Alaska, said that "some of the optimism surrounding biofuels has begun
to ebb" and cautioned that "we will need to pay close attention to the costs that would result from any new policy that's put forward."

Both ethanol and the drop-in fuels can be made from nonfood, cellulosic feedstocks such as crop residue, wood chips and perennial grasses, rather than cornstarch, the main feedstock for conventional ethanol. But research partly financed by oil refiner ConocoPhillips suggests the drop-in fuels could be made less expensively than cellulosic ethanol through a process known as pyrolysis, said Robert C. Brown, director of the university's Bioeconomy Institute.

The ethanol industry, which argues that availability to consumers of drop-in fuels is years away, is fast running out of a market for its product even as federal biofuel mandates are continuing to increase under a 2007 law.

A key roadblock is that the Environmental Protection Agency has long limited the amount of ethanol that can be used in conventional cars to 10 percent.

The EPA has approved raising the cap to 15 percent for newer vehicles, but it's not clear how many service stations will sell the higher blend.

Ethanol already can be used in blends of up to 85 percent in the 8 million cars and trucks that are now equipped to run on that mix, about 3 percent of the 240 million vehicles on the road. But there are relatively few places to buy 85 percent ethanol, or E85.

"The biggest challenge that we face in biofuels is what I call marketplace expansion," Harkin said.

U.S. automakers Ford, General Motors and Chrysler are increasing production of the vehicles, but their foreign rivals have not, and the industry as a whole opposes Harkin's mandate.

The Alliance of Automobile Manufacturers says the vehicle mandate in Harkin's bill would cost consumers as much as $2 billion based on a cost of $100 to $300 per vehicle and divert money away from fuel-saving technologies. The Energy Department puts the cost at $50 to $100 per vehicle.
______________________________________________________________________________
MAR


Cellulose Direct to Butanol Bug Revealed
March 10, 2011 |

Oak Ridge National Laboratory has announced two of its scientists, Yongchao Li and Yunfeng Yang of ORNL collaborating with a team led by James Liao of the University of California at Los Angeles has for the first time produced isobutanol directly from cellulose. This achievement has been for years a prime national goal, as it would answer a major effort to move more transport fuel demand away from imported oil.
Butanol is a four-carbon atom rather than the two-carbon atom of ethanol. Its properties include energy density much closer to gasoline, a high octane more like ethanol, and it doesn't mix with water as ethanol will.
Liao, chancellor's professor and vice chair of Chemical and Biomolecular Engineering at the UCLA Henry Samueli School of Engineering and Applied Science explains why butanol is so desirable, "Unlike ethanol, isobutanol can be blended at any ratio with gasoline and should eliminate the need for dedicated infrastructure in tanks or vehicles. Plus, it may be possible to use isobutanol directly in current engines without modification."
The team's work represents across-the-board savings in processing costs and time, plus isobutanol is a more energy dense alcohol buy about a third than ethanol. The team's paper has been published online in Applied and Environmental Microbiology.
Cellulosic biomass like wood products, the grasses and crop residues are abundant and could be cheap, but are much more difficult to utilize than starch ready corn and sugarcane. This is because of "recalcitrance" a property of plants natural defenses to being chemically dismantled.
Direct use of the biomass could solve the processing complexity and expense that involves several steps – pretreatment, enzyme treatment and fermentation – which is more costly than a method that combines biomass utilization and the fermentation of sugars to biofuel in a direct single process.
To accomplish the conversion the team designed and developed a strain of Clostridium cellulolyticum, a native cellulose-degrading microbe that could directly synthesize isobutanol from cellulose. Liao points out, "This work is based on our earlier work at UCLA in building a synthetic pathway for isobutanol production."
While some Clostridium species produce butanol, these organisms typically do not digest cellulose directly. Other Clostridium species digest cellulose but do not produce butanol. None produce isobutanol, an isomer of butanol.
Now Li explains, "In nature, no microorganisms have been identified that possess all of the characteristics necessary for the ideal consolidated bioprocessing strain, so we knew we had to genetically engineer a strain for this purpose."
While there are many possible microbial candidates, the research team ultimately chose Clostridium cellulolyticum, which was originally isolated from decayed grass. The researchers note that their strategy exploits the host's natural cellulolytic activity and the amino acid biosynthetic pathway and diverts its intermediates to produce a more carbon atom rich alcohol than ethanol.
The researchers also note that Clostridium cellulolyticum has been genetically engineered to improve ethanol production, and this has led to additional detailed research.
Clostridium cellulolyticum has a sequenced genome available via U.S. Department of Energy's' Joint Genome Institute. The team's proof of concept research sets the stage for studies that will likely involve genetic manipulation of other consolidated bioprocessing microorganisms.
This is encouraging research. But butanol production to date shows two major issues the press release isn't addressing. The first is butanol is more toxic than ethanol, as butanol is produced and the proportion in the biomass mash increases, the organisms usually shut down or die. How that is being addressed isn't discussed.
The second issue is the utilization share of the available biomass. Fermentation of corn and sugarcane as an example, nearly completely extracts the starches and sugars leaving the cellulose, proteins and oils in a highly useful state that earns income, offsets the cost of the crop and leaves almost no waste.
The UCLA ORNL team's work deserves congratulations. It not reasonable to expect they're at the point where all that's left is a mineral ash residue with all the carbon reformed into fuel. But it certainly looks much more simple now to get at least part of the cellulose biomass made into a drop in gasoline replacement fuel.
______________________________________________________________________________
New Tools From Cows For Breaking Out Cellulose
February 4, 2011

University of Illinois researchers report that they have found dozens of previously unknown microbial enzymes in the bovine rumen – the cow's primary grass-digestion chamber or stomach – that contribute to the breakdown of switchgrass, a leading candidate for a renewable biofuel energy resource.
The team sequenced and analyzed 268 gigabases of "metagenomic" DNA from microbes that adhered to plant fibers incubated in cow rumen, a huge undertaking. This "metagenomic" approach, led by Edward Rubin, of the DOE Joint Genome Institute and the Lawrence Berkeley National Laboratory, analyzed all the genes in all the microbes present in a sample, rather than one at a time.
U. of I. animal sciences professor Roderick Mackie explains the metagenomic approach gives a more accurate picture of the processes in the rumen that make plant degradation possible saying, "Bacteria are microbes. They live in consortia, and they all contribute to the functioning and the services provided."
The metagenomic approach set the team up to identify 27,755 potential "carbohydrate-active" genes. They cloned some of these genes into bacteria, and successfully produced 90 proteins of interest. They found that 57 percent of these proteins demonstrated enzymatic activity against cellulosic plant material.
The research now published in the journal Science, tackles a major barrier to the development of more affordable and environmentally sustainable biofuels. Cellulose, hemicellulose and lignin are the main plant products for expanded biofuel production. These plant structures are where the cow has the breaking down plant matter and converting it to energy all figured out. A cow's digestive system allows it to eat more than 150 pounds of plant matter every day and convert those difficult products and digest them into useful blood sugars.
That contrasts to consuming simple sugars found in food crops such as corn, beets or sugar cane that can be environmentally costly and some believe threatens the human food supply. The cellulose to fuel challenge, whose solution always seems just around the corner, depends on getting sugars into fermentation to produce fuels. A biological solution seems best as it avoids heat and harsh chemical treatments – either way breaking these products up into the sugars and releasing the energy is not easy.
Mackie, sets the stage for the new approach saying, "The problem with second-generation biofuels is the problem of unlocking the soluble fermentable sugars that are in the plant cell wall. The cow's been doing that for millions of years. And we want to examine the mechanisms that the cow uses to find enzymes for application in the biofuels industry."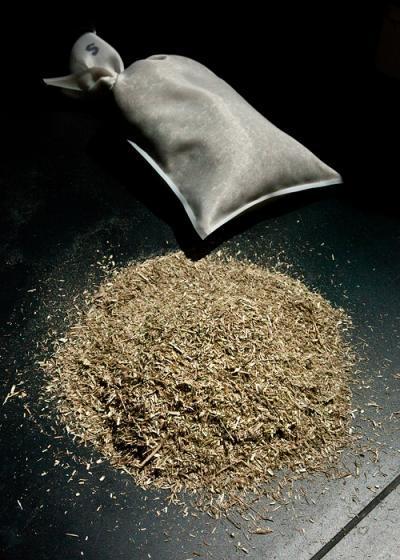 Ruminant Insertion Bag. Click image for more info.
Starting in 2008 Mackie with Washington State University professor Matthias Hess who is first author on the new study, and was then a postdoctoral researcher at the U.S. Department of Energy's Joint Genome Institute in California, used a decades-old technique for studying ruminant nutrition. They placed small, mesh bags containing either milled alfalfa or switchgrass through a 'cannula' (a permanent, surgically installed portal) into the cow rumen or stomach and examined the microbes that adhered to each plant type after two or three days. Visual and chemical analyses showed that microbes in the rumen were efficiently breaking down both types of plant matter, with a different community of microbes attacking each plant type.
Mackie, who is also a professor in the U. of I. Institute for Genomic Biology explains a series of experiments proved that the technique could help scientists find the microbes in the cow rumen that were most efficient at degrading a particular type of plant matter.
Hess pointed out the team was also able to assemble the genomes of 15 previously "uncultured" (never before grown in a lab) microbes. Several techniques, including sequencing the genomes of individual cells and comparing those to the assembled genomes, validated this approach, he said.
These results suggest that the bovine rumen is one of the best microbial habitats to explore for sources of plant-degrading enzymes, the researchers reported.
The research team also included scientists from the DOE Joint Genome Institute, the University of California at Berkeley and Illumina Inc. The full list leads the paper's abstract, here's the study link again. The BP-sponsored Energy Biosciences Institute funded the research carried out at Illinois.
______________________________________________________________________________
Baucus, Tester Reintroduce "Freedom Fuels" Bill to Boost Montana Jobs


(Washington, DC) - Montana's U.S. Senators Max Baucus and Jon Tester reintroduced legislation today aimed at boosting Montana jobs and reducing dependence on foreign fuels.
The American Security and Freedom Fuels Act of 2011 would:

Grant the Department of Defense the authority to contract for fuel produced in the United States for up to 10 years. (Currently, the Defense Department can only contract with energy suppliers only up to five years.)

The longer-term contracts for American-made fuels are expected to boost demand for alternative fuels derived from home grown crops, such as camelina, and reduce the military's and country's dependence on foreign oil.

Industry experts argue that long term contracts could jump-start new investments in new energy projects across the United States, including new clean coal to liquid refineries or bio-fuel plants.
"We're working hard to come up with fresh ideas to create new job opportunities in Montana while doing the right thing when it comes to energy independence. This legislation helps secure a stable demand for Montana-made camelina and coal to liquids fuels that will secure good-paying jobs," said Baucus. "This is just one more way we can highlight Montana's strengths to boost our economy while working toward reducing our need to rely on foreign energy sources."
"We have incredible opportunity to fuel our military and create Montana jobs in the process, and this bill will help pave the way forward," said Tester, a third generation grain farmer. "The Freedom Fuels Act will open a lot of doors for us and for our kids and grandkids through smart energy development, and it will help Montana agriculture take off."

Crow Tribal Chairman Cedric Black Eagle says the legislation provides a much needed boost to job creation efforts.

"The Crow Tribe and our industry partners, through the Many Stars Project, are uniquely situated to assist the United States in realizing the intent and vision behind the American Security and Freedom Fuels Act of 2011. I am greatly encouraged by the possibility of long-term contracts for synfuels and biofuels, both of which are significant components of the Many Stars Project,"
said Chairman Black Eagle.
"This bill will encourage investment in projects like Many Stars and will promote energy independence, will create good, well-paying jobs, and will enhance our national security. I can't overstate the benefit that the Freedom Fuels Act would provide to our project, to the Crow Tribe, and to all Montanans. I look forward to continuing to work with Senators Baucus and Tester on ways we can unite to create new job opportunities."

The Pentagon's largest energy user, the Air Force, has established a goal of purchasing half of its domestically consumed aviation fuel from alternative sources by the end of 2016 and currently plans to certify all aircraft for alternative fuel use by early 2011.
To meet its goals, the Air Force has invested $13 million in testing and certification for aviation bio-fuels, and has contracted with Sustainable Oils - which recently opened a location in Bozeman, MT - for 100,000 gallons of camelina-based bio-fuels. Likewise, the Navy has invested roughly $3 million in testing and certification for aviation bio-fuels and signed a contract with Sustainable Oils for the delivery of 40,000 gallons of camelina-based jet fuel.

"The ability of the Department of Defense to contract over a longer horizon will allow the development of a sustainable renewable energy business that benefits American farmers providing fuel to the US military,"
said Scott Johnson, President of Bozeman-based Sustainable Oils, Inc.
"To date just in the demonstration flights we've delivered more than three-hundred thousand gallons of jet fuel so the Navy and the Army can demonstrate and qualify their airframes for the use of US grown camellia based jet fuel. Through that process, since 2009, more than $3.5 million in new revenue in rural America have been generated for American farmers. To make this business sustainable, the government has to enter into long term contracts, which gives incentives for investors to build refineries, crushers, for farmers to know there is a long term outlet for their product."

The Freedom Fuels legislation will also bolster Navy's F-18 Green Hornet program which is powered by jet fuel made from Montana-grown camelina.
By allowing the Defense Department to broker contracts like these for a longer period of time, the Baucus-Tester bill will increase demand for Montana camelina now, and provide Montana camelina famers with a sustainable long-term demand for their crop. Baucus and Tester also hope the legislation will lead to an expansion of Montana's renewable energy infrastructure. Camelina, which is best grown in a dry climate, is well suited for Montana.
The Defense Department requested the contract authority granted under the Baucus-Tester bill and has suggested the authority will save money over the long-term by allowing the Department to negotiate cheaper contracts. The Air Transport Association has also expressed support for this policy in a letter to the Armed Services Committee in May 2010.

Contact: Kate Downen (406) 224-5056/Kathy Weber (406) 657-5915 (Baucus)
Aaron Murphy (406) 252-0550/Andrea Helling (202) 228-0371 (Tester)
# # #
______________________________________________________________________________
SOURCE: Sustainable Oils
Dec 01, 2010 14:27 ET
Peer-Reviewed Life Cycle Analysis Shows Camelina-Based Renewable Jet Fuel Reduces Emissions by 75 Percent
High Oil Content, Low Fertilizer Requirements and Co-Product Use Combine for Low Carbon Footprint
http://www.marketwire.com/press-release/Peer-Reviewed-Life-Cycle-Analysis-Shows-Camelina-Based-Renewable-Jet-Fuel-Reduces-Emissions-1362256.htm
BOZEMAN, MT--(Marketwire - December 1, 2010) - A life cycle analysis of the carbon footprint of camelina-based biojet fuel concludes that the renewable fuel reduces CO2 emissions by 75 percent compared to traditional petroleum-based jet fuel, according to a peer-reviewed paper published in the journal Environmental Progress & Sustainable Energy. The study also found that "green" diesel made through the same process reduces CO2 emissions by 80 percent.
"This peer-reviewed analysis proves what we've known for a long time -- that camelina is an ideal feedstock for renewable jet fuel," said Scott Johnson, President of Sustainable Oils. "The peer-review process demonstrates without a doubt the significant CO2 reductions that camelina-based jet fuel offers. Our airline and military partners can be even more confident about the benefits of using camelina-based fuels."
The research, in collaboration with UOP, a Honeywell company, was conducted at Michigan Tech University, a leading research university. The study was based on camelina
grown in Montana
and processed into biojet fuel using UOP hydroprocessing technology.
Camelina-based biojet fuel is well positioned to be the renewable fuel of choice for airlines and the U.S. military once the American Society for Testing and Materials (ASTM) approves a specification for renewable jet fuel, known as Hydrotreated Renewable Jet (HRJ). The standard is expected to be fully approved in 2011.
In addition to camelina's low carbon footprint, a range of other factors make it an attractive choice as a feedstock for renewable, domestically-produced advanced biofuels. Camelina grows in rotation with wheat and/or on marginal land, so it does not compete for agricultural land. Camelina "meal" has been approved for use as livestock and poultry feed, so growing camelina actually contributes to overall food supply.
Camelina-based jet fuel has been among the most, if not the most, heavily tested of any renewable jet fuel, with successful tests by the U.S. Air Force, the U.S. Navy, and Japan Airlines. These groups have conducted multiple tests of the fuel on different aircraft types, engines, and at different speeds. Camelina-based fuels have passed every test.
In November 2010, Sustainable Oils' camelina-based biofuel met another key performance milestone with the Navy's successful test of the camelina in a MH-60S helicopter. The test represented another step toward the certification of camelina-based fuels for use in all Navy and Marine aircraft.
Lastly, camelina does not require additional research and development or pilot scale programs. It can be planted and harvested with existing equipment, and refined into HRJ with technology that is widely available today.
In 2009, the U.S. Navy and the Air Force contracted with Sustainable Oils for more than 140,000 gallons of camelina biojet fuel. Just recently, both groups exercised contract options for additional camelina biojet fuel, bringing the total to nearly 500,000 gallons to be delivered in 2010 and early 2011.
About Sustainable Oils
A subsidiary of Seattle-based Targeted Growth, Inc., Sustainable Oils, Inc. is a producer and marketer of renewable, environmentally clean, and high-value camelina-based fuel. The company is focused on the continued research and development of dedicated energy crops. Sustainable Oils solidly supports both agricultural and green energy initiatives with camelina, which is efficiently and economically grown even on marginal lands, harvested with traditional equipment, and requires minimal water.
Media Contact
John Williams
Scoville PR for Sustainable Oils
206-625-0075
Email Contact
______________________________________________________________________________
"Lufthansa to Test Biofuel on Passenger Jet
Germany's Lufthansa plans to launch the world's first passenger flight using biofuel next year. The carrier said an Airbus A321 on daily flights between Hamburg and Frankfurt will be powered with a biofuel blend made from 50% vegetable oil. The flights start in April 2011 and will continue for six months as part of a study on the impact of biofuels on aircraft performance."
______________________________________________________________________________
Project Liberty Begins Gathering Feedstock

It's no secret that America's growing addiction to foreign oil poses a significant threat to the domestic economy, and -- some say -- national security.
Two decades ago, the U.S. relied on foreign sources for about 30 percent of the nation's crude, but today 60 percent of the "black gold" is imported. And many of the countries supplying the oil have assumed "less than friendly" postures towards the U.S.
As the nation's dependence on foreign oil grew, ethanol emerged as a viable domestic alternative. The 2007 Energy Bill increased ethanol production mandates by authorizing the "Renewable Fuels Standard 2." Commonly known as "RFS 2," the policy requires the U.S. ethanol industry to produce 36 billion gallons by 2022.
To meet the goal, a key producer is embracing next-generation ethanol production by converting "one man's trash into cellulosic treasure." David Miller explains.


According to ethanol proponents it will not be possible to meet the 36 billion gallon renewable fuels production mandate relying solely on corn-based ethanol. With that in mind, the energy bill specifies 16 billion gallons must come from advanced biofuels. Feedstocks for these advanced biofuels are expected to include municipal solid waste, wood chips, wheat straw, switchgrass and corn stover.
Leading the way to satisfy RFS2 is the world's largest single producer of ethanol - POET. Through Project Liberty, POET's advanced biofuels program, the ethanol giant plans to produce -- or assist others in the production of -- 3.5 billion gallons of cellulosic ethanol annually by 2022.
Mike Roth is Director of Biomass for POET.
Mike Roth, Director of Biomass, POET: "It's a brand new industry within ethanol, which is relatively new, being about 20 years old. A very, we still call ethanol a very immature industry. There is still a lot to learn and a lot of efficiencies to be gained. And this is adding a whole new component to it that really changes the game."
To get the ball rolling, POET opened a cellulosic biofuels pilot plant at its Scotland, South Dakota facility in 2008. Producing just a few thousand gallons each year, POET Scotland has been a test bed for advanced biofuels development.
USDA research shows 1.3 billion dry tons of cellulosic biomass is currently available in the United States. According to POET, that's enough to produce more than one-third of the fuel used by American drivers.
After several million dollars in research and development, POET has begun work on its full-scale cellulosic plant in the northwestern Iowa town of Emmetsburg. Referred to as a "bolt-on" facility, the biomass plant will be located on the same grounds as the company's conventional starch plant. Ethanol production at the advanced biofuels operation is expected to begin in 2012.
POET plans to use more than 300,000 tons of corn stalks, cobs, and leaves to make 25 million gallons of cellulosic ethanol annually. This will increase the total output of the Emmetsburg facility to 75 million gallons per year.
Mike Roth, Director of Biomass, POET: "We're trying to stay away from the lower stalk and any dirt the farmer may pick-up, we don't want that. Anything from the ear up, we'll take it."
Biogas released by Project Liberty's enzymatic process will be used to power both the biomass facility and the nearby starch plant. Byproducts from the anaerobic digesters are expected to be used as fuel and as a product to improve the physical properties of soil. According to POET, when operating at full capacity, ethanol produced at the Project Liberty plant will actually have a negative carbon footprint.
(slug baling)
To gather the necessary material to feed the $250 million facility, Roth has enlisted the aid of area corn farmers to bale one-quarter of the stover normally left in the field. POET research shows this equals about one ton of material per acre. According to their studies, this keeps the soil from
Mike Roth, Director of Biomass, POET: "The literature that we've reviewed says that on a given corn field you can take approximately 25 percent of the above ground residue and leave 75 percent on the ground for future years, for soil organic carbon, nutrient replacement, etcetera."
Roth had no problem finding 85 farmers to sign four-year contracts obligating them to collect, store and transport something that used to be considered a waste product. He actually was forced to turn producers away.
To encourage farmers to capitalize on these next generation fuels, Secretary of Agriculture Tom Vilsack recently unveiled the "Biomass Crop Assistance Program", or BCAP. The matching program will pay up to 75 percent of the cost to produce, store and transport the alternative feedstock.
Secretary Tom Vilsack, USDA: "And I believe the need for energy security, a cleaner environment, and better economic opportunity in Rural America make the case for action now."

The idea was not lost on Myron Bruhn who grows corn on 1200 acres with his brother in northwest Iowa near the Emmetsburg plant. Bruhn sees the BCAP payments as a good incentive to get involved in the biofuels industry.
Myron Bruhn, Cylinder, Iowa: "It's an investment to buy all the equipment but there should be some return on the investment. We don't farm a lot and if you can put a little more in your pocket by the end of the year and it's progress."
Between the payments from POET and the reimbursements from BCAP, Bruhn says he can afford the $75,000 investment he's already made in a new baler and low-boy trailer for hauling the one-ton round bales to the plant. POET is paying Bruhn $45 per ton.
Twenty-five miles away, Dick Nelson is using experimental equipment supplied by POET to gather square bales.
Dick Nelson, Emmetsburg: "We've been cussin' the corn stalks for years because we have so much cover on the ground. Now we can take off a ton, or whatever, and it won't effect the erosion or anything. So we're really, it's a win-win proposition, I think."
For bale of biomass, POET is paying $65 per ton.
This first-pass collection has its advantages and disadvantages. For POET, the method puts less dirt into the bales. For the producer, more fuel is consumed while combining.
Nelson also likes the idea of BCAP helping him pay for new equipment.
Dick Nelson, Emmetsburg: "It's a great program. You know, they talk about grindin' up trees and switchgrass. Well, we got all kinds of cobs here so it's gonna work, I think. If they can make fuel out of it we can do it. I'm excited about it. Yup."
For POET, and the farmers gathering biomass, the dream remains the same, reducing America's dependence on foreign oil.
Mike Roth, Director of Biomass, POET: "With the advent of cellulosic ethanol, not only from corn residue but from switchgrass and bagasse and other materials, we will get to the point where ethanol can replace the 60 percent of the petroleum that we currently import.And if we use 40 percent petroleum that we currently have domestically and then the other 60 percent is ethanol we are now energy independent."
For Market to Market, I'm David Miller
______________________________________________________________________________
MSU-Northern Hosts First EPAC Agricultural Biofuel Summit
Originally printed at http://www.kfbb.com/news/local/MSU-Northern-Hosts-First-EPAC-Agricultural-Biofuel-Summit-105320398.html
By KFBB News Team
October 19, 2010
Grain producers and alternative energy companies came together today in Havre, as part of the Ethanol Producers and Consumers Agricultural Biofuel Summit.
This is the very first summit, addressing issues including small grain ethanol production and biodiesel.
"We felt it was time that the parties that had something to do with ethanol production from small grains could all get together and have that conversation. It's been very important to kind of get the right people at the same table at the same time," explained Pam Ost, EPAC Executive Director.
One notable figure who has been a steady advocate for biofuels is Senator Jon Tester.
"It's going to create jobs, it's going to help move the economy forward. It's going to help revitalize rural America," he says.
The Senator spoke at the summit earlier today and also fielded questions from the audience.
Among the day's topics, creating a market for biofuels, which Senator's Tester and Baucus hope to accomplish through a bill that would allow the military to buy the fuels for up to 20 years.
"Once that market gets established, whether it's for the military or some other reason, then it will allow me to jump into that market, too, as a private individual," Tester adds.
The Senator also addressed the need for protection of producers moving forward in biofuel ventures.
"They need a safety net. These are oftentimes crops that farmers haven't raised before and so there's a certain amount of risk involved there."
EPAC Director Pam Ost says our state is fortunate to have Senators that share their same vision for the future of ethanol and biofuels.
"When they come to an event like this, it gives it greater merit and people then maybe listen a little bit harder and as we move forward, that's what we need, is more listeners and more people that will help make those decisions."
While this is EPAC's first biofuel summit, those in attendance hope there will be more opportunities to come together in the future.
"I think it takes people coming together for conferences like this to be able to think about opportunities that exist. This is a great opportunity to get together with others who have similar interests and who knows where this may go," says Montana Farmers Union lobbyist and Project Specialist Chris Christians.
The summit will be continuing tomorrow at the MSU-Northern campus.
______________________________________________________________________________
Sen. Tester Speaks at EPAC Agricultural Biofeul Summit
Originally printed at http://www.kfbb.com/news/local/Sen-Tester-Speaks-at-EPAC-Agricultural-Biofeul-Summit-105307798.html
By KFBB News Team
October 19, 2010
Grain producers and alternative energy companies are meeting in Havre today and tomorrow for an Agricultural Biofuel Summit.
The Ethanol Producers and Consumers sponsors the summit which will address issues like ethanol production in small grains and biodeisel in agriculture.
Senator Jon Tester spoke at the conference this afternoon. He says using homegrown oilseeds like camelina will help the economy and reduce our dependence on foreign oil.
He doesn't expect biofuels to eliminate jobs producing energy with natural gas and coal. Tester says Montana has a "front row seat" when it comes to biofuels because of the amount of potential biomass in the state.
"This summit talking about ethanol - grain ethanol, cellulosic ethanol and hopefully biofuels - it's going to be a great opportunity to see that's out there to move Montana's agriculture forward in a lot of these crops and make the country more energy self sufficient," he explains.
______________________________________________________________________________
Supporting family farms focus of Montana Farmer's Union convention

Posted: Oct 16, 2010 7:42 PM by
Alex Grubb (KRTV)
The 95th Farmers Union Convention wrapped up Saturday evening, after two days of meeting and workshops.
There were several hot topics at this year's event and chief among them were eminent domain, cattle eating weeds and dealing with wildlife like wolves.
There was also a political tone to the conference with discussion of the Farm Bill and the upcoming legislative session.


Senator Jon Tester spoke Saturday morning about supporting the culture of family farm agriculture.

"I think we need to get the crop insurance folks back in Washington, D.C. to be a lot more flexible," Tester said. "They tend not to want to fish far from the boat, and when you're talking about oil seeds and those kinds of things, we've raised in Montana, but there's some risk to it. We've got to make sure we've got a good safety net there and the crop insurance, the RMA in Washington, D.C. can help with that and they tend to drag their feet a bit."


The president of the Montana Farmers Union says the Farm Bill will not be asking the legislature for money, but rather updating and adding new laws to the books.
______________________________________________________________________________

U.S. military, Ask America voters see green future

By
Torrey AndersonSchoepe

Sat Oct 16, 10:35 am ET


The U.S. military is getting serious about going green. Officials say its over dependence on oil has proven to be a dangerous liability, costing billions of dollars and the lives of those who supply and transport it.

While an energy bill has been put on the back burner in Congress due to more pressing issues with the economy, the military is making it a priority especially in Iraq, Afghanistan and other sensitive areas of deployment around the world.
The
Ask America van
arrives on Saturday in Santa Fe, part of the region in the U.S. that promises to lead the way in solar energy, and we've been collecting peoples' thoughts on energy and the environment through the Yahoo! News informal polling forum. With nearly 300,000 responses in this category, it seems most people would like to see a wider variety of energy sources on the mainland as well.


With energy legislation in a congressional logjam, can the U.S. military lead the way to a green revolution?

Top military and civilian officials met at the Pentagon this week to discuss different ways to improve energy efficiency.
"We're not going green just for green's sake," Navy Secretary Ray Mabus, a former ambassador to Saudi Arabia, said at one of the panel discussions at the Pentagon, according to
AFP
. "Energy reform…is about protecting the lives of our troops. It's about making our country more secure and more independent. That's why we are doing this, that's why we have to change."
Six Marines have been wounded while guarding fuel convoys in the past three months, and a 2009
Army report
found that for every 24 convoys delivering fuel to troops in Iraq and Afghanistan, one soldier or civilian was killed in the process.

Attacks
on trucks bringing fuel to NATO troops in Afghanistan earlier this month highlighted how vulnerable the convoys can be. Dozens of trucks were destroyed and thousands left stranded as officials shut down the Khyber Pass — suppliers' main route to the bases.
Mabus says he wants the Navy and Marines to be using 50 percent renewable energy by 2020.
The military has already made some advances in using more renewable technology in its efforts to go green. According to
The New York Times
, the Air Force's entire fleet will be certified to fly on biofuels by next year and has already done test flights using a fuel mix that is 50 percent plant-based biofuel and 50 percent jet fuel.

Ask America
users seem to also want more energy efficiency outside the military. The forum's "Energy and Environment" section addresses many alternative energy options, including high-speed rails, wind farms, solar energy, nuclear power and electric cars. Each of these questions had a majority of 70 percent or more in favor of developing these parts of the industry.
But that's not to say that people want to abandon oil altogether. Fifty-five percent of responses to a question on oil versus alternative energy said they still want to see oil drilling continue while we develop other sources of renewable energy.
Most comments on both sides of the issue echoed the sentiment of Yahoo! user Shane S, who commented: "Keep drilling to keep oil prices down and keep us off mid-east oil. But we need to invest in clean energy for long-term growth and environmental health."
User Bradley continued in that vein saying, "'Clean Energy Now' is at least a decade away. In the meantime, let's drill our own oil, providing jobs here."
One user, R, who says he works in the industry commented: "The push toward new cleaner energy creates jobs and makes the world a better place to live. That's a win-win."
______________________________________________________________________________

Air Force confirms MANG to lose F-15s

By PETER JOHNSON • Tribune Staff Writer and MATT VOLZ The Associated Press• October 15, 2010

The Montana Air National Guard will in fact lose its F-15 fighter jets to another base, the Air Force confirmed Thursday. The loss of the fighter jets had not been previously announced, though the future of the F-15 mission was questioned Wednesday after the Air Force announced Great Falls as its preferred location for four C-27J transport aircraft.
Moving the F-15s out of Great Falls to California is part of a larger reduction announced earlier this year, Air Force spokesman Gary Strasburg said Thursday. "The plan is to move those aircraft to Fresno once an environmental impact statement is completed on the new location," he said. That impact study has not begun and a date for the move has not been set, but it is expected to happen before delivery of the transport planes, Strasburg said. "It's anticipated that the environmental impact statement would be completed at Fresno and the F-15s be gone before the C-27s arrive (in Great Falls)," he said. The Air Force has said as it trims the number of older, legacy fighter aircraft it wants to deploy the remaining ones more efficiently, including converting the Fresno Air National Guard base from F-16s to F-15s, a more capable air superiority fighter to enhance the defense of the West Coast.
U.S. Rep. Devin Nunes, R-Calif., said he was pleased that Fresno Air National Guard base will be getting the F-15s. "Everyone has understood that to keep the Fresno base open, the existing F-16s have to be replaced with modern F-15s," Nunes said Wednesday. "However, we have struggled to determine where the new aircraft would come from." The Montana Air National Guard itself just completed conversion from F-16s to F-15s and became operational with the F-15s in June, leaving Montana officials somewhat surprised and indignant that the F-15s will be pulled so soon from Great Falls. The Air Force said Wednesday the Montana Air National Guard's base in Great Falls beat out Boise, Idaho, as the preferred location for the new C-27J transport mission. The cargo planes' short take-off and landing capabilities give troops access to airstrips otherwise unreachable by fixed-wing aircraft, the Air Force said.
A final decision will be made in June, and if approved, the planes' expected delivery would be in 2014. There are more than 900 men and women with the 120th Fighter Wing and its 18 F-15 fighter jets. It was not immediately clear how many jobs would be attached to the C-27J mission, and Strasburg said that number has yet to be determined. Brad Livingston, commander of the Montana Air National Guard, said Thursday that top officials had given Montana's National Guard leadership "no formal indication, either in writing or orally, that a final decision had been made to move the Montana Guard's F15s to California." He said Montana Guard officials were able to confirm Thursday that the decision had been made by Air Force leaders.
Montana Guard officials were aware that the F-15 transfer was being considered, Livingston said, and had resisted the change through the military process. "For the last year, we made the business case questioning why the F-15s should be moved when they were operational and our crews are deployed to Hawaii performing a vital defense role," he said. About $22 million was spent to prepare Montana Guard facilities to handle F-15s and another $10 million to train MANG pilots and maintenance crews for the aircraft, he said. The Montana Guard was able to complete the conversion in two years, a year ahead of schedule, but now the Fresno and Great Falls Guard bases will each have to spend money and time converting to new missions. "But," Livingston stressed, "we're rolling forward today. "They vote on mission assignments at Air Force headquarters, not the unit level. We accept the Air Force decision and will press forward to perform the new mission well when we get it. "Our only mixed feeling is that getting the new C-27J mission in place of the current F-15 role does not represent a one-for-one transfer in manpower," he said. Different estimates have been used, he said, but MANG currently believes the switch in flying missions could result in a 30 percent reduction in MANG's personnel. The base has 900 personnel, about 300 who work full-time. Livingston said state National Guard officials, the congressional delegation and Gov. Brian Schweitzer will work with Air Force leadership, which has promised to seek other missions for the Montana Air Guard to offset losses in personnel because of the switch in flying missions
______________________________________________________________________________
Baucus, Tester introduce bill to boost camelina demand, reduce dependence on foreign oil
Senators' Legislation Answers Defense Department Call to Allow for Longer-Term Renewable Fuel Contracts
Monday, September 20, 2010
(Washington, DC) – Montana's U.S. Senators Max Baucus and Jon Tester introduced a bill today to grant the Department of Defense the authority to contract for renewable fuel produced in the United States for up to 20 years. The Department currently has authority to contract with energy suppliers only up to five years, and allowing the longer-term contracts for American-made renewable fuels is expected to boost demand for alternative fuels derived from home grown crops, such as camelina, and reduce the military's, and the country's, dependence on foreign oil.
"This bill will boost demand for Montana camelina and provide Montana farmers with a reliable demand for their crop. And with demand for camelina comes good-paying jobs converting the crop into renewable fuel made right here in America. This will help to reduce our dependence on foreign oil and make our military even stronger," Baucus said. "This bill is good for Montana and good for our national security."
"This legislation is a win-win because it fuels our military with renewable fuels that can grow well in Montana," said Tester, who wrote a 2007 law to create a federal crop insurance program for farmers who grow camelina. "Longer contracts mean more predictability for folks who raise crops like camelina, and they will help our entire country become more energy independent. That means stronger security and a stronger future for our economy, and for our kids.
The Pentagon's largest energy user, the Air Force, has established a goal of purchasing half of its domestically consumed aviation fuel from alternative sources by the end of 2016 and currently plans to certify all aircraft for alternative fuel use by early 2011. To meet its goals, the Air Force has invested $13 million in testing and certification for aviation bio-fuels, and has contracted with Sustainable Oils – which recently opened a location in Bozeman, MT – for 100,000 gallons of camelina-based bio-fuels. Likewise, the Navy has invested roughly $3 million in testing and certification for aviation bio-fuels and signed a contract with Sustainable Oils for the delivery of 40,000 gallons of camelina-based jet fuel.
By allowing the Defense Department to broker contracts like these for a longer period of time, the Baucus-Tester bill will increase demand for Montana camelina now, and provide Montana camelina famers with a sustainable long-term demand for their crop. Baucus and Tester also hope the legislation will lead to an expansion of Montana's renewable energy infrastructure. Camelina, which is best grown in a dry climate, is well suited for Montana.
"Such strategic legislation allows for energy crops, such as camelina, that are already contributing to the security of our national military fuel needs to have the surety of long-term demand necessary to create sustainability. We at Sustainable Oils fully support Senator Baucus and Senator Tester's effort to seek strategic solutions and know that this legislation is key to continued investment in Montana's potential to significantly contribute to the energy needs of our country," said Sustainable Oils President Scott Johnson.
"This legislation will make a big difference for Camelina growers in Montana. For too many years we've seen small communities in Montana growing smaller while we consume more energy imported from overseas. This bill could help turn things in the right direction and I thank Senator Baucus and Senator Tester for introducing the bill," said Dean College of Technical Sciences at MSU Northern Gregory D. Kegel.
The Defense Department requested the contract authority granted under the Baucus-Tester bill and has suggested the authority will save money over the long-term by allowing the Department to negotiate cheaper contracts. The Air Transport Association has also expressed support for this policy in a letter to the Armed Services Committee in May.
Baucus and Tester introduced the American Security and Freedom Fuels Act of 2010 today as the Senate is considering the National Defense Authorization Act.
Link to story:
http://tester.senate.gov/Newsroom/pr_092010_camelina.cfm