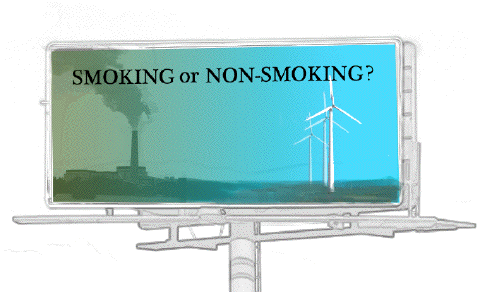 One citizen can make a difference.


Please send in your comments on or before the March 19 deadline. to:

Richard Fristik, USDA Rural Development, Utilities Programs, 1400 Independence Ave, SW, Mail Stop 1571, Room 2237, Washington D.C. 20250-1571or emailed to: Richard.Fristik@wdc.usda.gov.

See the following statement for some basic "talking points".

_________________________________________________________________

Statement in Opposition to the Southern Montana Electric
Highwood Generating Station (SME HGS)

Dear Friends;

SME's Final Environmental Impact Statement (FEIS) commentary period for the proposed Highwood Coal Plant CLOSES March 19. We need to get as many comments to the "Powers That Be" as soon as possible. This may be the last chance. If people are not comfortable commenting about the FEIS, (and who among us has the time or inclination to read a 1100 page report paid for by SME?) we have some stock comments for you. But if you want to read it.... here's the beast:
http://www.usda.gov/rus/water/ees/pdf/SME%20FEIS.pdf

Please give Rick Frisktik (Environmental Protection Specialist USDA) richard.frisktik@wdc.usda.gov your thoughts about the proposed coal plant. Here are a few comments that you may "cut and paste" made by people who HAVE read the FEIS:

I object to the construction of the proposed coal plant being built near Great Falls Montana for the following reasons:

The CFB plant utilizes an outdated and inefficient technology that will make the plant obsolete before it is completed.

The Rural Utility Service (RUS) of the USDA should not place taxpayer dollars at risk to fund a polluting coal-fired power plant that will emit heavy metals and acids that will result in cumulative damage to prime agricultural lands of statewide importance within the "Golden Triangle". The recent Cascade County zone change from "agricultural" to "heavy industrial" is being legally challenged by 49 area landowners.

The Rural Utility Service cannot legally place taxpayer dollars at risk to fund electricity generation that is not intended to benefit rural communities. The vast majority of electricity generated by the Highwood facility will go either to the City of Great Falls or to the market.

The Rural Utility Service of the USDA cannot legally place taxpayer dollars at risk to fund a power plant that is unnecessary to meet the reasonable needs of its consumers. Before the Rural Utilities Service can back a new plant, it has to be sure that existing sources of electricity are inadequate to meet demand. Neither the agency nor Southern Montana electric ("SME") has ever undertaken any meaningful analysis of the many alternatives to building a coal-fired power plant.

The RUS should not place taxpayer dollars at risk to fund a venture based on inaccurate and incomplete load projections and outdated cost analyses.

I strongly believe that the Highwood coal plant violates our constitutional right as Montanans to a "clean and healthful environment".

I am concerned about the greenhouse gases that will be produced by this plant (the equivalent of more than 500,000 cars) and the lack of a proven technology to sequester the CO2 from a coal plant of this type. The likelihood of a future carbon tax will make this plant noncompetitive with energy from renewable sources.

I believe that the coal plant will disproportionately affect vulnerable populations, including women during childbearing years, newborns and nursing infants, and Native Americans living downwind who heavily depend upon fishing and game animals for sustenance. It will also adversely affect asthmatic children and elderly patients with chronic obstructive pulmonary diseases.

I am concerned that the power generated by this facility will charge higher rates than the default supplier. Furthermore, we are concerned about the vulnerability of relying on a single power source to provide uninterrupted electrical service to our municipality.

I believe the plant is needlessly wasteful of our precious water resources, consuming and evaporating approximately half of what the entire City of Great Falls uses on a winter day. (Because the water rights being used by the plant are relatively recent, it is also possible that if droughts continue the plant will be closed for lack of water supply).

The coal plant and its plume of smoke will destroy the integrity of the Lewis and Clark National Historic Landmark, which is becoming an increasingly important tourism asset. Furthermore, I assert the manner in which the Salem site was selected was misrepresented to the public.

I believe that the Final Environmental Impact Statement (EIS) is incomplete, inasmuch as very few financial details are disclosed. This severely restricts the public's ability to comment on the coal plant before the March 12 deadline. Before issuing a loan, any bank requires detailed financial information, and we believe that the loan process for public monies should be at least as stringent. We are formally requesting a Supplemental EIS with this financial information, along with an appropriate opportunity for additional public
comment.

There are several petitions against the plant containing the signatures of more than a thousand Montanans, copies of 25 letters from Native Americans on the Rocky Boy Reservation, and a published Feb. 25, 2007, Tribune advertisement enumerating the concerns about the coal plant from more than a hundred physicians and other healthcare professionals.

FEIS states: "75% of the workers will come in from outside MT. They will not bring families, so schools will not be affected. There are 900 unoccupied apartments in GF and hotel rooms." This will only be a problem when we have need of the Hotel rooms for special events, do we cancel Charlie Russell Auction?

I object to the FEIS assertion that the plant will impair the views of Gates of the Mountain and the Bob Marshall on some days of the year.

I would like to see State, Federal and private monies to be spent developing solar, wind, geothermal, or other viable energy development which is Earth friendly.

Please send an email to Rick Frisktik (Environmental Protection Specialist USDA) richard.frisktik@wdc.usda.gov and let your thoughts be heard!